.... and we're trying to make lots of happiness at home right now with the start of Dad's Chemotherapy on Thursday. We couldn't have a plane sailing day either ... ending up being there until 6:30pm because Dad had got very dehydrated again over the past few weeks and his calcium level had raised again. We now know exactly how much fluid he needs to be having, 100mls every half an hour! We shall be trying our best to make sure that he has that ready for the next treatment. He didn't have a very good night Thursday night, I think it was all the information he'd been given and a lot of excess nervous energy left over from the unknown. Yesterday morning however, he's been up into the greenhouse and tended to his plants and pottered about in the garden for 10 minutes. He's tired but still in his normal aggravating mood. He's said that he's hoping that the side effects of the Chemo are all mind over matter and has said that he doesn't intend on having any of them except the hair loss! So fingers crossed.
I want to thank my gorgeous friend Suzie, who i know stalks my blogspot, for the beautiful card that she sent me and especially for what she wrote inside. I love you loads xxx
This weeks challenge, is sponsored by Simon Says Stamp!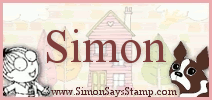 "

With over 100,000 items in stock, Simon is proud to offer the best selection of Rubber Stamps, Scrapbooking, Artist Trading Cards, Altered Art, and Paper Crafting Supplies in the world!"
To see all the latest products instore please click HERE
To see the exclusive Simon Says Stamp range, please click HERE
Not forgetting their HUGE Magnolia range HERE
All things Tim Holtz including newly released products can be found HERE
They have new Copic colours HERE
any amount from $5.00 - $100.00 is available, ideal to send to a crafty friend if you're unsure of what to buy them eh?
A very generous

$25 gift certificate

will be awarded to our lucky winner this week to spend on goodies in the SSS store!
and the Teddy Bo Challenge #16 is .... LOVE IS IN THE AIR
We are looking forward to seeing all your fabulous creations, and we only have one little rule, which is
You must use a Teddy Bo and Co image.
I've made this card for my Husband for his birthday on 26th of this month. He's been so good to me just lately and so understanding ... I'm sure i don't always deserve it! I thought the sentiment was apt "Happiness is Homemade"
... my creation using a Teddy Bo image ...
To make this card I used:~
CS ~ Stash
DP's ~ Can't remember now ... its been a long week
Image ~ Teddy Bo_002
Buttons & Border Ribbon ~ Stash
Tools ~ Sewing Machine, Pencil Crayons, Blending Stumps, Sansodor