:-o I slept until 10:02am yesterday morning!!!! Not quite sure what or how that happened cos normally i'm an incredibly early riser ... however, I must of needed it and I do feel better for it.
Upon my awake I :)] Mum to see how Dad was feeling. Apparently, he fell over in the night on the way to the bathroom :( ... he was OK, 8-| just couldn't get up and had managed to wedge himself between the wardrobe and chest of drawers ... not a pretty sight ... he was :)) about it though, so it must be all good!
I did think that I'd be able to do loads of things with not having to visit the oldies but it never works that way does it? :| I plugged the vacuum in upstairs to make a start on the chores and ... :-< ... it died! DH did a mad dash down to Argos and purchases a new one ... its one of the cylinder ones ...#:-S ... flippin' heck I knew I was using that ... it nearly sucked the floorboards through the carpet. The suction was that good I could hardly push it!
I sort of multi-tasked for the rest of the day, doing a bit of baking and made a card ... I had a go at this new recipe using manky old black banana's ...
Banana Creme Caramels
... will show the photos of them tomorrow. I whipped up a batch of meringues too with the egg whites I had left over :D ... oh happy days!
So onto this weeks PTW challenge and as it is the last challenge of the month (September) there's a sketch …
As always, please feel free to resize, flip and rotate the elements - as long as you can still see the sketch, it's completely fine.
And as it's the last challenge of the month, PTW are sponsored by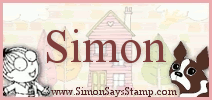 In business since 2002, Simon Says Stamp is striving to offer you the best selection of Rubber Stamps, Altered Art, Scrapbooking, Artist Trading Cards, and Paper Crafting Supplies in the world. We stock over 100,000 items in our warehouses so that we can offer you quick service and one stop shopping at a great price! We are located in Ohio, the heart of it all. Our team works hard to give you a fulfilled shopping experience and is always open to your ideas and suggestions! Happy customers are the heart of our business. We work hard to find and deliver to you the latest in stamping and paper crafting supplies! Attending classes, workshops, and sales meetings around the world, our goal is to keep our product offerings fresh and current. Make us your one stop easy shop - and we'll deliver right to your door!
There is a $20 voucher up for grabs for you to spend in Heidi's shop – woohoooo :)
Also at this weeks DP2 the challenge has been set by
Iulia, and she's chosen
Furry Friends! as the
challenge theme...
To make this card I used:~
CS ~ Stash
DP's ~ A Freebie from a couple of years back ... no idea of name or designer sorry!
Image ~ Mo Manning ~ 2010 Baby Bella & Bronte
Gems ~ Stash
Tools ~ Pencil Crayons, Blending Stumps, Sansodor, Sewing Machine, Cuttlebug, Nesties, Diamond Stickles