The past couple of days i've been feeling really rough :( ... We'd been advised to all have flu jabs with Dad having Chemo and us being part of his caring team. Not sure it was such a good idea *-:) So, Thursday we went en masse to the Drs Surgery (DH, both DD's, Niece and myself ... Mum and Sis had been done earlier in the week with being diabetic) ... by the time I was driving out of the car park my throat felt like it has been stroked with sand paper and my head was pounding @-) then came the arm ... OMG I couldn't even bear to touch it, let alone sleep on that side in bed without wanting to cry! And to top it all off we had an SOS :)] phone call from Mum at 1:37am on Friday to say Dad had fallen over and was wedged between the wall and the bed!!! After a nail biting :-SS drive down there, we managed to lift him up and pop him back into bed and check him over for injuries ... none #:-S
Yesterday we had the GP out to visit cos his chest infection had not really improved any and he was still quite :-&. He has given him a stronger course of anti-biotics and told to stay in bed as much as possible. We contacted the lovely District Nurses who sorted out some aids and appliances for us for during the night.
The last Chemo session is due on Thursday 13th but it looks unlikely to be able to go ahead at the minute :|
Onto this weeks challenge is sponsored by the fab, Simon Says Stamp!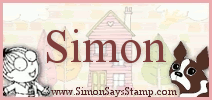 "With over 100,000 items in stock, Simon is proud to offer the best selection of Rubber Stamps, Scrapbooking, Artist Trading Cards, Altered Art, and Paper Crafting Supplies in the world!"
To see all the latest products instore please click HERE
Their exclusive Simon Says Stamp range are HERE
Not forgetting their HUGE Magnolia range HERE
All things Tim Holtz including newly released products can be found HERE
They have yummy Copics HERE
and right now, SSS have a fab range of autumnal and Halloween themed stash - you'll be spoilt for choice!
any amount from $5.00 - $100.00 is available, ideal to send to a crafty friend if you're unsure of what to buy them eh?
A very generous $25 gift certificate will be awarded to our lucky winner this week to spend on goodies in the SSS store!
... a close up of the image Stargazer by Sara Burrier available HERE
... using again on the inside in B&W ...
To make this card I used:~
CS ~ Stash
DP's ~ Summer Driggs Winter Gifts
Pearl, Gems & Snowflake ~ Stash
Tools ~ Pencil Crayons, Blending Stumps, Sansodor, Sewing Machine