Fluttering .... hmmm, that's sort of what i've been doing all week, but perhaps not as gracefully LOL! Yesterday was spent fluttering here, there and everywhere ... my niece Carrie said that she would babysit Dad for us so that I could take Mum to the local Council Office to place a claim for Council Tax benefit (dunno what i'd do without her right now, she's been a tower of strength to me and has helped me out no end ... love ya honey x) ... OMG, that was a chore to begin with, they never make anything simple for you do they? Dad had given us a shopping list which included long johns, thermal vests, boxer shorts, pyjamas and gloves ... yes gloves, to go with scarf he's taken to wearing in bed! We also picked him up one of those cosytoes things for the wheelchair, which after seeing he decided he could use indoors whilst he's sat in his rocking chair! We're hoping that this weekend or next week, we'll be able to wrap him up and take him out in the wheelchair again. His next Chemo session is 22nd September so we want to make sure that the week before he does something and goes somewhere nice. If we have a nice day I want to take him to the National Arboretum at Alrewas which is about 15 minutes drive away from us. On my visit there in June with our friend Paula we found the memorial for the SS Lancastria which is the ship that my Grandad (Dad's Dad) died aboard. Dad has never visited and has never had the chance to say goodbye to his Dad. He was 8 years old when his Father died and all 9 children were placed in children's homes and foster care when my Grandma deserted them. Anyway, that's a whole story by itself .... to long for today. Talking of today ... the plans are to have a crafting day. My sister and her daughter are going to the oldies to clean the bedrooms, change the sheets and make the beds up in the guest room ready for my Uncle (Dad's youngest brother) and Aunts impending visit on Wednesday and to babysit Dad whilst Mum does some baking. She's desperate to make cakes which she generally does every week, but just lately hasn't had the time to do, so she's really looking forward to this chance.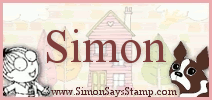 "With over 100,000 items in stock, Simon is proud to offer the best selection of Rubber Stamps, Scrapbooking, Artist Trading Cards, Altered Art, and Paper Crafting Supplies in the world!"
To see all the latest products instore please click HERE

Their exclusive Simon Says Stamp range are HERE

Not forgetting their HUGE Magnolia range HERE

All things Tim Holtz including newly released products can be found HERE

They have yummy Copics HERE

and right now, SSS have a fab range of autumnal and Halloween themed stash - you'll be spoilt for choice!
any amount from $5.00 - $100.00 is available, ideal to send to a crafty friend if you're unsure of what to buy them eh?
A very generous
$25 gift certificate
will be awarded to our lucky winner this week to spend on goodies in the SSS store!
.... and this is what I did with it ....
Using yet another Teddy Bo image this one is TeddyBoBea_Tabs_001 and was one of my first purchases.
To make this card I used:~
CS ~ Stash
DP's ~ EverdayMomIdeas ~ Dwelling
Pearls, String, Eyelets ~ Stash
Tools ~ Sewing Machine, Pencil Crayons, Blending Stumps, Sansodor, Eyelet Setter, Diamond Stickles