Shhhh, yesterday was peaceful. I made this card and the one downstairs! I sat at the laptop for most of the day only moving to eat lunch and to hang out the laundry! How much fun did I have? I've made 2 whole Christmas cards for this year, this could mean that I wont have to buy a box ... but we wont hold our breath on that score just yet! Dad was feeling good yesterday, but then we know its the 2nd day after Chemo when it all kicks in. So in theory today is THE day! I'll keep you posted on here and for those of you that have me as a friend on Facebook you can catch up with me on there! x In the meantime the chicken is in the slow cooker, the veg is in the steamer ready to be switched on and i'm still in bed LOL!
This week is Papertake Weekly's last challenge of the month, and as always they have a sketch ….
Please feel free to resize, flip and rotate the elements - as long as you can still see the sketch.
As it's the last challenge of the month, they are sponsored by those fabulous people across the pond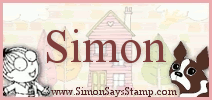 In business since 2002, Simon Says Stamp is striving to offer you the best selection of Rubber Stamps, Altered Art, Scrapbooking, Artist Trading Cards, and Paper Crafting Supplies in the world. We stock over 100,000 items in our warehouses so that we can offer you quick service and one stop shopping at a great price! We are located in Ohio, the heart of it all. Our team works hard to give you a fulfilled shopping experience and is always open to your ideas and suggestions! Happy customers are the heart of our business. We work hard to find and deliver to you the latest in stamping and paper crafting supplies! Attending classes, workshops, and sales meetings around the world, our goal is to keep our product offerings fresh and current. Make us your one stop easy shop - and we'll deliver right to your door!
There is a $20 voucher up for grabs to spend in Heidi's shop !!!
So onto my card .... wait for it ....
I just can't help, I'm addicted to these little bears and at least the little cuties have got me making Christmas cards!
I used Teddy Bo_128 (again!)
To make this card I used:~
CS ~ Stash
DP's ~ Shabby Princess ~ Holiday Magic
Pearls ~ Stash
Tools ~ Tim Holtz "On The Edge" Die, Pencil Crayons, Blending Stumps, Sansodor, Cuttlebug, Snowflake Die, Sewing Machine, Crystal Stickles