I'm so excited \:D/ its unreal .... I actually I-) all through the night for the first time since, well, before Dad died ... Ok so it was medication induced sleep, but a whole night of it all the same!!!! We took delivery of Dad's new home today too ... flippin heck I didn't expect it to be that big /:) ... we found it on EBay and its called "Open Book"
We had some brill news as well this week about our gorgeous friend Paula, but i can't share that with you just yet :| ... talking of Paula the card below is one that I made especially for her, to thank her for everything she did for us, which was above and beyond what was expected of her and we :x her lots.
This weeks challenge is sponsored by our friends at Simon Says Stamp!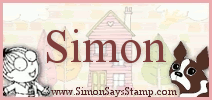 "With over 100,000 items in stock, Simon is proud to offer the best selection of Rubber Stamps, Scrapbooking, Artist Trading Cards, Altered Art, and Paper Crafting Supplies in the world!"
To see all the latest products instore please click HERE
Their exclusive Simon Says Stamp range are HERE
Not forgetting their Magnolia range HERE
All things Tim Holtz including newly released products can be found HERE
They have yummy Copics HERE
and right now, SSS have a fab range of Hero Arts Holiday/Christmas goodies
perfect for those last minute cards you may need to make.
any amount from $5.00 - $100.00 is available, ideal to send to a crafty friend if you're unsure of what to buy them for Christmas.
A very generous

$25 gift certificate

will be awarded to our lucky challenge winner this week to spend on goodies in the SSS store!
HUGE thanks to everyone at Simon Says Stamp for your continued support and sponsorship of our challenge blog throughout 2011, we are delighted that this will continue throughout 2012 too! :)
Here is this weeks sketch...
.... and my card ...
... close up of Mo's Digital Pencil image "Make A Wish"
... I used her again on the inside in B&W with a beautiful verse ...
To make this card I used:~
CS ~ Stash
DP's ~ RAK from Terry ... thanks honey xxx
Lace, Pearls & Staples ~ Stash
Tools ~ Sewing Machine, Pencil Crayons, Blending Stumps, Sansodor, Nesties, Cuttlebug, Diamond Stickles